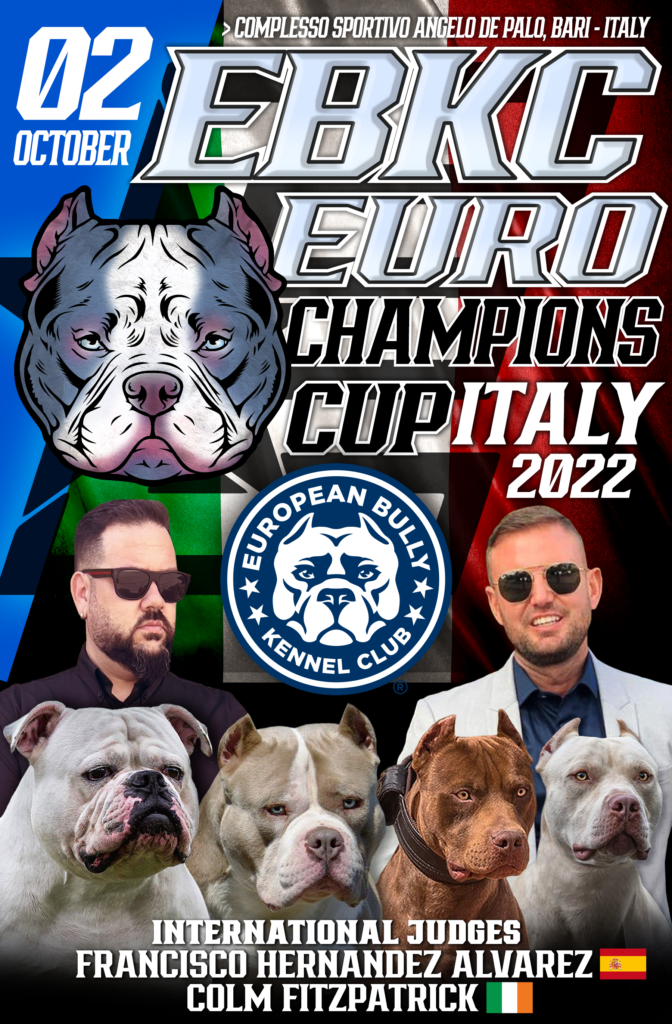 The EBKC invites you to the EBKC EURO CHAMPIONS CUP ITALY 2022,
on Sunday 2nd October 2022 at the Complesso Sportivo Angelo De Palo, in Bari Italy We look forward to welcoming exhibitors and dogs from all over Europe. This is the 3rd International Bull Breed Dog show for 2022 after 2 years of no EBKC Shows due to COVID-19 restrictions. We ensure it will be one to remember in typical EBKC tradition. For those travelling by car or by plane, it is suggested to spend the weekend in the area in order to enjoy some of the great Bars & Restaurants found in the city of Bari, just 10 mins from the Show venue.

Show Venue
Complesso Sportivo Angelo De Palo
Address: Campi De Palo – Sport e Tempo Libero, Via Napoli, 424, 70132 Bari BA, Italy

View on Google Maps
International Judges
Francisco Hernandez Alvarez (Spain)
Colm Fitzpatrick (Ireland)
Breeds on Show
American Bully CLSC / PKT / XL / STD
American Bulldog
American Pit Bull Terrier
Open Class (All EBKC recognised breeds)


Age Groups for American Bully
3-6 Months
6-9 Months
9-12 Months
1-2 Years
2-3 Years
3 Years and Over
Age Groups for Open Class ( All EBKC Registered Breeds)
3-12 Months Puppy
1 Year & Over Adults
Show Dates & Times
INTERNATIONAL DOUBLE SHOW – Sunday 2nd October 2022
Doors Open: 9:00 Hrs
Show Starts: 11:00 Hrs
Airports Nearby
Bari International Airport (7 mins from show location)
Viale Enzo Ferrari, 70128 Bari BA, Italy
Show Fees & Breeder / Kennel / Vendor Stands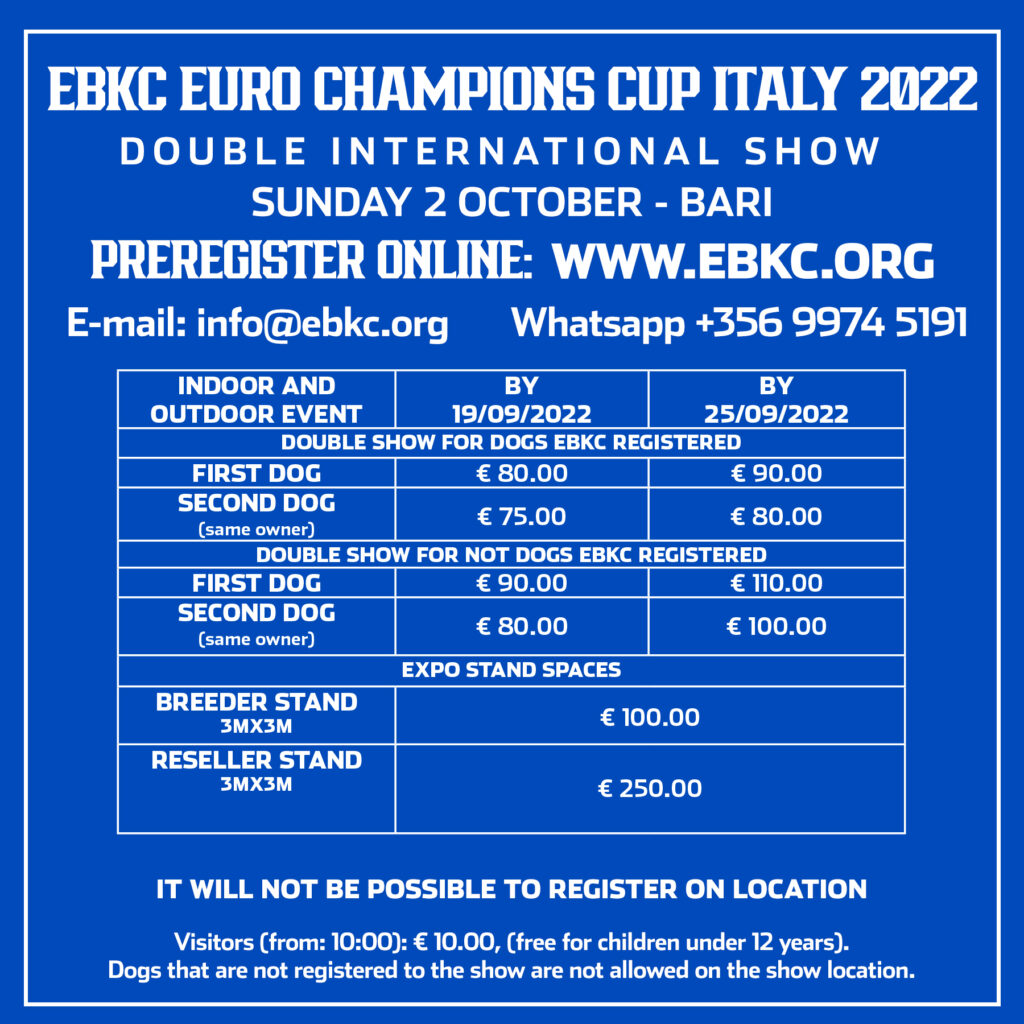 Dogs must be registered with EBKC.
Offer valid until spaces are available.
All Exhibitors abide by EBKC Dog Show Regulations
IMPORTANT NOTICE:
In the case of dogs that have undergone surgical procedures, a veterinary certificate is required and must be presented upon request.
Dogs with docked tails or cropped ears are to be admitted in accordance with the legal regulations of their home countries and those of the country where the show takes place. The judging of docked and undocked or cropped and uncropped dogs must be done without any discrimination and solely in accordance with the valid breed standard. The organizing country's regulations concerning showing docked or cropped dogs should be stated in the show schedule or on the entry forms as well as in the show regulations.
Dogs that are docked/cropped due to a medical necessity may participate in an exhibition. The holder must prove this with a medical statement from the veterinarian. That statement states why, where and when the dog was docked, and by which veterinarian.
The European Bully Kennel Club is not liable for any damage or losses incurred by Exhibitors who do not adhere to the EBKC Dog Show Regulations.