Show Venue: Emerald Equestrian Centre
Address: Mucklon, Enfield Co. Kildare, EIRCODE A83F585 Ireland
Show Registration and Booth Setup: 8.30 am
Show Doors Opening time: 9:00 am

SHOW REGISTRATION ON THE MORNING OF THE SHOW
Online Pre-Registration is now closed however you can still register on the morning of the show from 8.30 am. In order to avoid delays in the show start we ask all latecomers to download the show entry form Here under, print the form, fill in your dog's details and your own and present it at the show entry desk.
Double Show Entry Fees at the Door: €100 Per Dog (includes dog owner entrance pass)
Visitor Entrance: €10 per person
Children under 12 Years of age accompanied by a Parent or a guardian enter for free.
Persons with Disabilities enter for free.
EBKC SHOW ENTRY FORM (Please Download this Image and Print)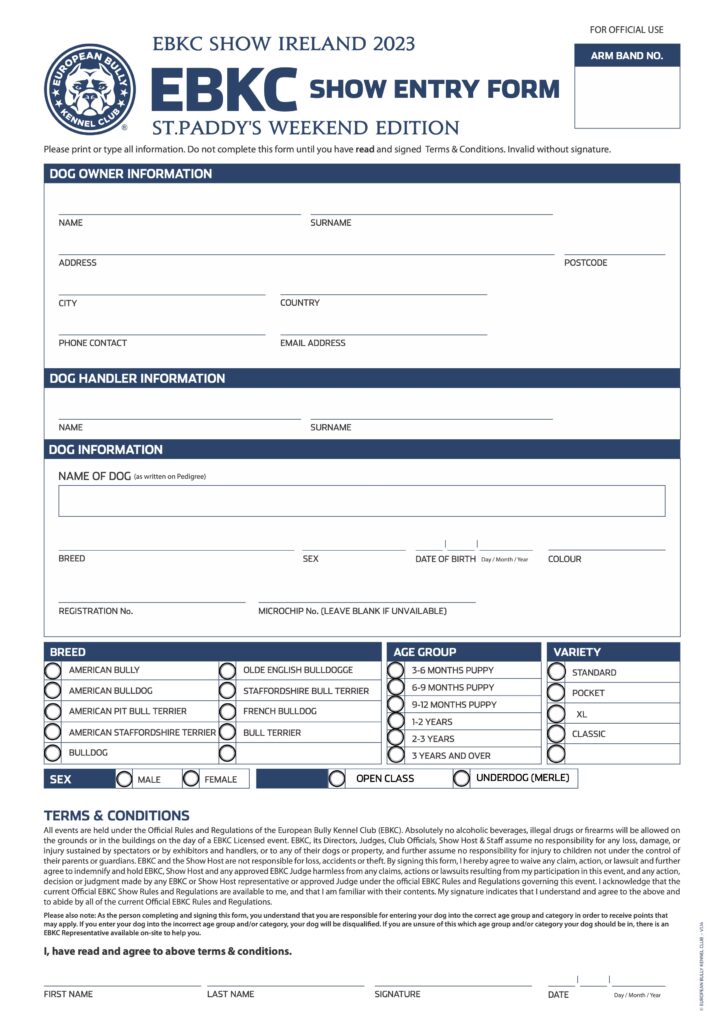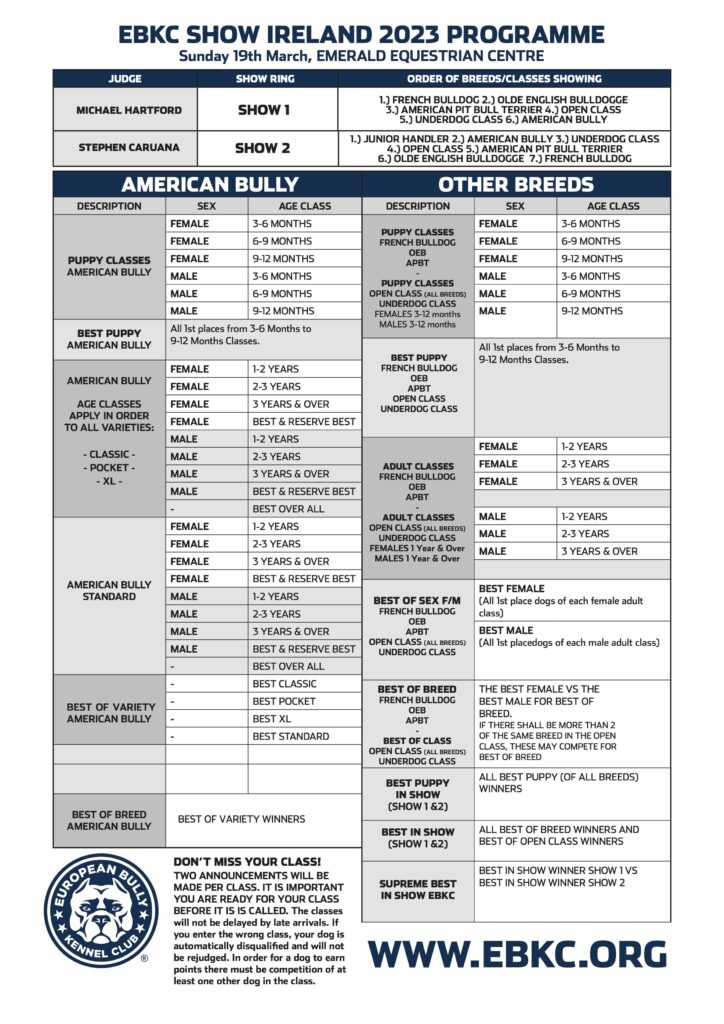 DOG SHOW REGULATIONS
To view the complete list of dog show regulations please click on the button above. Here under are a number of regulations that are being outlined as a general reminder to All exhibitors and accompanying visitors entering the Dog Show Venue.
RULES CONCERNING THE DOG SHOW
SHOW CLASSES ARE PUBLISHED ON THE SHOW PROGRAMME WHICH IS AVAILABLE ON THIS PAGE AND FACEBOOK. IT IS IMPORTANT YOU READ THE ORDER OF SHOWING.
DOGS SHALL BE ASSIGNED A SHOW RING NUMBER AND THIS CANNOT BE TRANSFERRED TO ANOTHER DOG.
TWO ANNOUNCEMENTS WILL BE MADE PER CLASS. IT IS IMPORTANT YOU ARE READY FOR YOUR CLASS BEFORE IT IS CALLED. THE CLASSES WILL NOT BE DELAYED BY LATE ARRIVALS. IF YOU ENTER THE WRONG CLASS, YOUR DOG IS AUTOMATICALLY DISQUALIFIED AND WILL NOT BE REJUDGED.
IN ORDER FOR A DOG TO EARN POINTS THERE MUST BE COMPETITION WITH AT LEAST ONE OTHER DOG IN THE CLASS OR GROUP.
CHILDREN MUST NOT BE LEFT UNATTENDED.
THE UNDERDOG CLASS IS A SEPARATE CLASS FROM THE STANDARD BREED CLASSES. DOGS SHOWING IN THIS CLASS CANNOT BE SHOWN IN STANDARD BREED AND BREED VARIETY CLASSES.
JUDGES' CALL/DECISIONS ARE FINAL.
RULES CONCERNING ALL EXHIBITORS AND VISITORS
NO SMOKING IN THE SHOW VENUE
NO DRUGS OR ALCOHOL INSIDE OR OUTSIDE THE SHOW VENUE.
NO ABUSIVE BEHAVIOUR TOWARDS ANY STAFF OR CLUB OFFICIAL.
NO FIGHTING OR CURSING BETWEEN EXHIBITORS OR VISITORS
NO LITTERING INSIDE OR OUTSIDE THE SHOW VENUE.
CHILDREN MUST NOT BE LEFT UNATTENDED.
IT IS STRICTLY PROHIBITED FOR A DOG OWNER TO BE ABUSIVE IN ANY WAY TO THEIR DOG OR TO ANY DOG THAT BELONGS TO OTHERS.
RULES CONCERNING DOGS
ONLY DOGS THAT ARE TAKING PART IN THE COMPETITION(SHOW) ARE ALLOWED TO ENTER SHOW VENUE. NO EXCEPTIONS.
NO VISITOR DOGS OF ANY BREED CAN ENTER THE SHOW IF THEY ARE NOT REGISTERED FOR THE SHOW.
NO BITCHES IN HEAT(SEASON) ARE ALLOWED TO ENTER THE SHOW VENUE OR COMPETE IN THE SHOW.
NO HUMAN-AGGRESSIVE DOGS ARE ALLOWED AT THE SHOW.
ANY DOG THAT SHOWS SIGNS OF SICKNESS AND CONTAGION SHALL NOT ALLOW TO ENTER THE SHOW VENUE.
OWNERS MUST CLEAN AFTER THEIR DOGS AND CANNOT LITTER THE SHOW GROUNDS.
ALL DOGS ENTERING THE SHOW RING MUST HAVE A SHOW COLLAR AND SHOW LEAD.
NO SPIKED OR STUDDED COLLARS ARE ALLOWED.
DOGS MUST BE CRATED IN THEIR BOOTHS OR CRATE AREA.
NO DOGS MUST BE LEFT OFF THE LEASH AT ALL TIMES.
TERMS & CONDITIONS WAIVER SIGNED BY ALL EXHIBITORS
THAT PARTICIPATE IN ALL EBKC LICENSED DOG SHOWS
All events are held under the Official Rules and Regulations of the European Bully Kennel Club (EBKC). Absolutely no alcoholic beverages, illegal drugs, or firearms will be allowed on the grounds or in the buildings on the day of the EBKC Licensed event. EBKC, its Directors, Judges, Club Officials, Show Host & Staff, and Show Venue assume no responsibility for any loss, damage, or injury sustained by spectators or by exhibitors and handlers, or to any of their dogs or property, and further assume no responsibility for injury to children not under the control of their parents or guardians. EBKC and the Show Host are not responsible for loss, accidents, or theft. By signing this form, All Exhibitors agree to waive any claim, action, or lawsuit and further agree to indemnify and hold EBKC, Show Host, the Show Venue, and any approved EBKC Judge harmless from any claims, actions, or lawsuits resulting from my participation in this event, and any action, decision or judgment made by any EBKC or Show Host representative or approved Judge under the official EBKC Rules and Regulations governing this event. I acknowledge that the current Official EBKC Show Rules and Regulations are available to me and that I am familiar with their contents. All Exhibitors are to sign a waiver in agreement with the above and to abide by all of the current Official EBKC Rules and Regulations.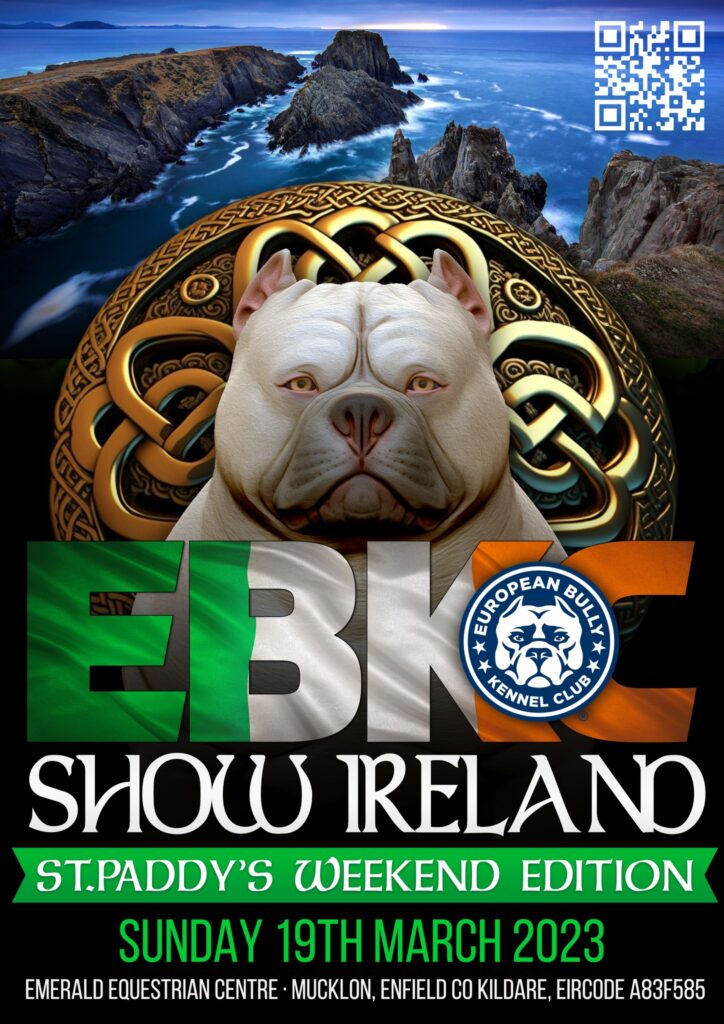 The EBKC is going to IRELAND on St. Paddy's Weekend. After many years of requests by the Irish Bully Community, the EBKC decided that 2023 was Ireland's turn. The show will be held at the Emerald Equestrian Centre and shall be a Double Multi-Breed International Dog Show.

International Judges
Michael Hartford (SE)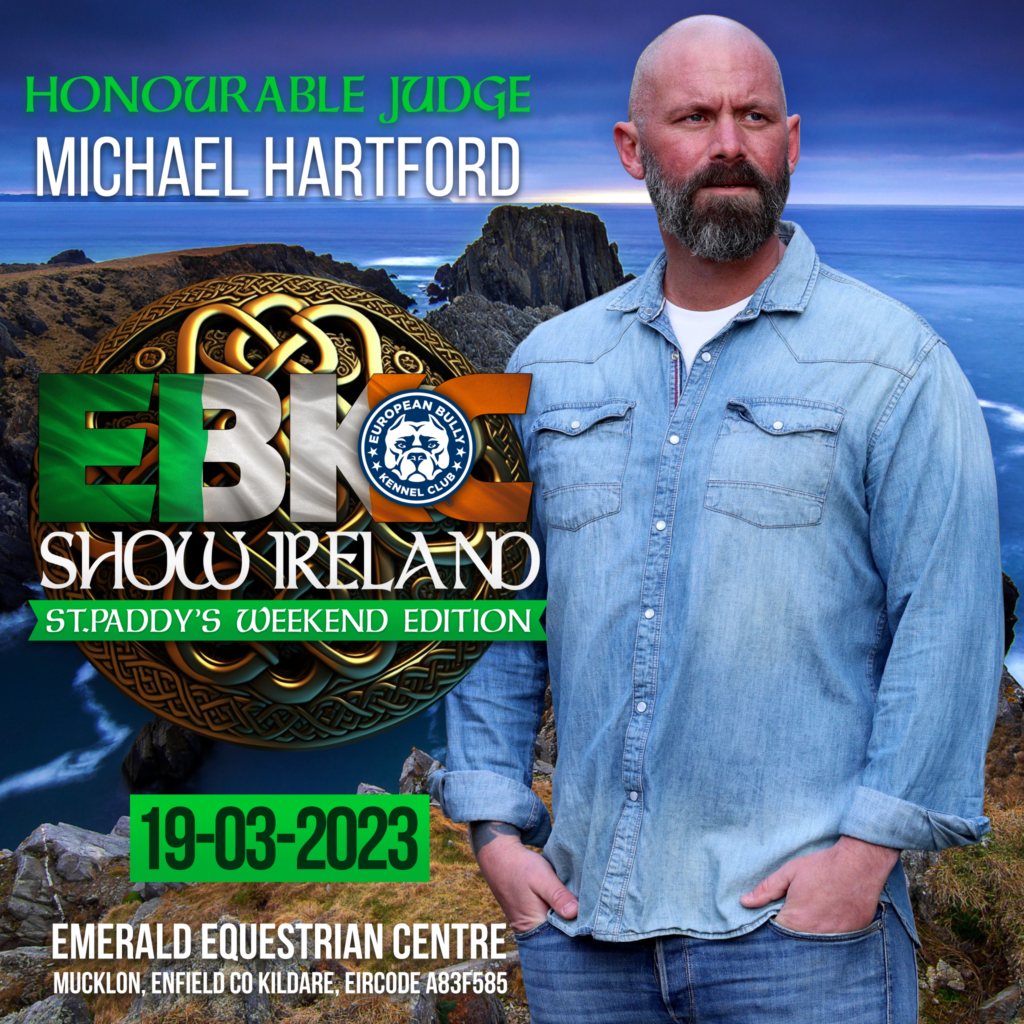 Stephen Caruana (MT)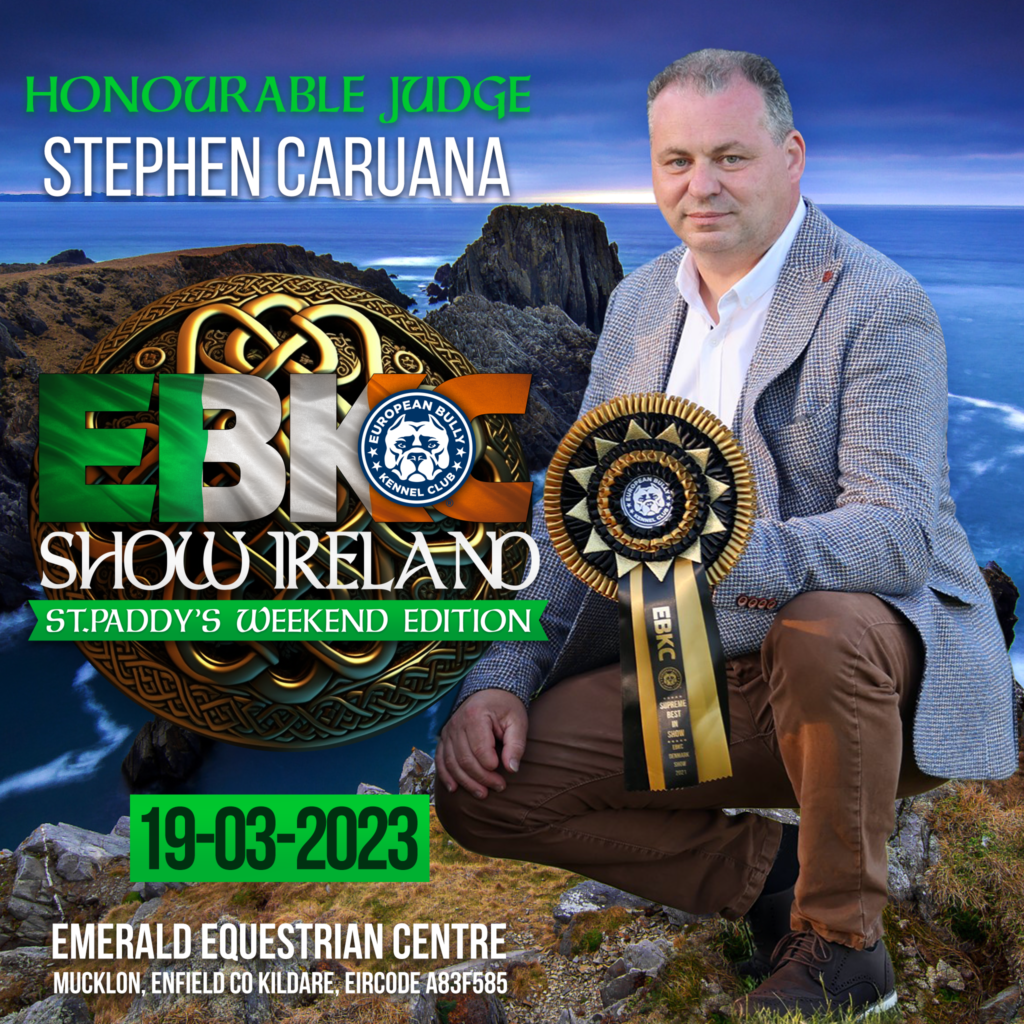 Breeds on Show
French Bulldog
Olde English Bulldogge
American Pit Bull Terrier
Open Class (All EBKC recognized breeds)
Underdog Class
American Bully CLSC / PKT / XL / STD

Open Class (All EBKC recognized breeds)
Underdog Class (Dogs that cannot show in the Breed Standard Classes, does not qualify for BIS or BOB)
Age Groups for American Bully
3-6 Months
6-9 Months
9-12 Months
1-2 Years
2-3 Years
3 Years and Over
Age Groups for Open Class ( All EBKC Registered Breeds)
3-12 Months Puppy
1 Year & Over Adults
Underdog Class (Dogs that cannot show in the Breed Standard Classes, does not qualify for BIS or BOB)
3-12 Months Puppy
1 Year & Over Adults
Show Dates & Times
INTERNATIONAL DOUBLE SHOW – Sunday 19th March 2023
Doors Open: 9:00 Hrs
Show Starts: at 11:30 Hrs
Onsite DJ, Food Truck, Breeder & Vendors, Children's Activities, Tattoo Artists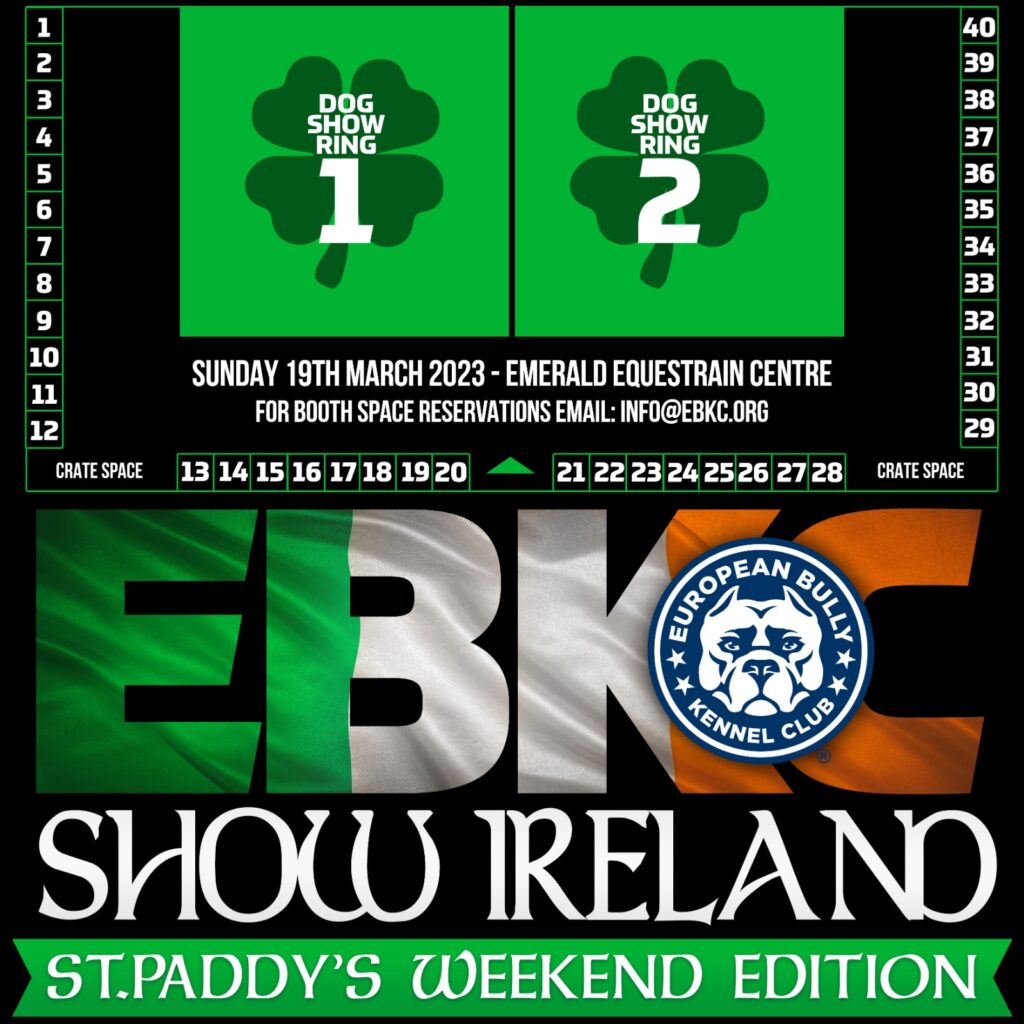 All Exhibitors abide by EBKC Dog Show Regulations
The European Bully Kennel Club and the Show Venue are not liable for any damage or losses incurred by Exhibitors who do not adhere to the EBKC Dog Show Regulations.